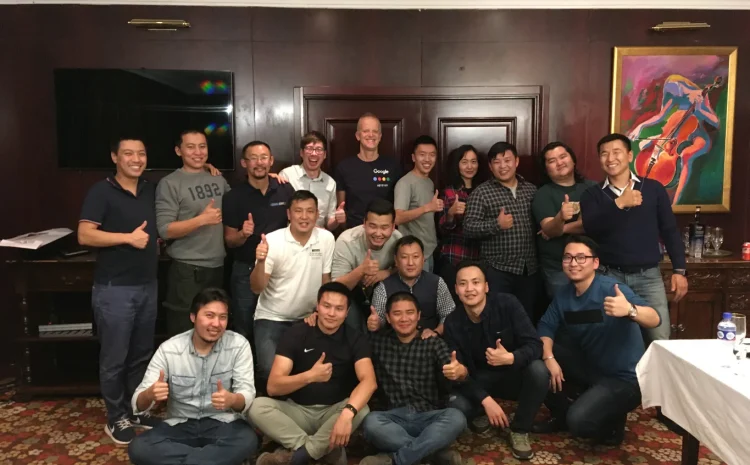 mnNOG is a non-profit, community-based initiative. It has been formed to organize and held communication forums for network engineers and technical specialists in Mongolia to discuss various topics related to network, security and other Internet technologies, and also to increase development and collaboration opportunities. mnNOG invites highly experienced Mongolian and international specialists to share their knowledge and develop skills of local engineers. We believe that mnNOG events will bring to participants opportunities to peer with other network operators, content providers and partners.
Brief Story
On 22nd March 2019, the first official MNNOG meeting was held at CSMS (Computer Science and Management School) with 30 participants from 20 different organizations including Mongolian internet service providers, research and education center, information and telecommunication universities. Mr.Tashi Phuntsho from APNIC participated remotely from Brisbane, Australia shared his experience of establishing NOG`s in other countries.
The agenda for the meeting was:
Introduction to NOGs (Network Operators Group), explaining its purpose and operation and benefit to the technical community, and general information of how other national and regional NOGs operate in the Asia Pacific region.
Official formation of MNNOG with consensus of meeting participants
Discussion on plan of actions for MNNOG 1 event including conference and workshops
Forming Program Committee and Coordination teams to organize MNNOG-1
Introducing MNNOG mailing list and its usage guidelines.
B. Bayar, from Mobicom presented introduction of NOG and proposed a plan of actions for MNNOG with the high level timeline.
Specific details, highlights and experiences of other network operator groups in the region provided by Tashi and were very informative to the meeting participants to understand operation of NOGs and its core teams. Further this information became the foundation of discussion for MNNOG plan of actions.
Another important outcome of the event was the formation of PC (program committee) and Coord (coordination) team. The teams were formulated on voluntarily basis considering the roles and will work collaboratively to organize MNNOG 1 in September 2019, after APNIC-48, according to current high level plan.
We would like to express a big thank you to the meeting organizers for making it happen successfully #Amarsaikhan, #Anar, #Ankhzaya, #Bayar, #Batbayar, #Baaska, #Gonchig, #Nyamaa, #Tugsuu, #Tuvshinbaya,r #Ulsaa
To join MNNOG community and share your thoughts and hear your peers, please subscribe to https://mailman.apnic.net/mailman/listinfo/MNNOG